If you've ever heard of Waba Grill or Flame Broiler, you probably live in the Golden State (or one of the few other places to be graced with these exclusive restaurants). California is home to the two competitors, both serving healthy rice bowls comparable to the better-known Chipotle or Qdoba. If you do know about Waba Grill and Flame Broiler, you know they're extremely similar – both in their menu options and the branding of their business. Offering look-alike recipes like bowls, plates, and sides – the restaurants are often ridiculed for their nearly indistinguishable offerings.
However, true Waba Grill and Flame Broiler lovers would care to disagree, claiming there is only one rice bowl restaurant that deserves to win the Battle of the Bowls – and that restaurant is…
But First – The Health Food Craze
Waba Grill and Flame Broiler are not your average fast food joints. They've got quick and convenient service, yes, but they're catered to the health-conscious crowd, which serves them quite well in a society that's all about the latest diets and superfoods. Both Waba Grill and Flame Broiler quickly gained a loyal following by offering options that cater to healthy eaters and dieters, whether it is Paleo, South Beach, or No Carb.
At Waba Grill, nothing is fried, chicken skin is removed, and the menu items are cooked fresh upon order using only the best, low-calorie options in the market. And at Flame Broiler, there's lean beef and chicken, and "Healthy Modifications" for every meal like no bread, low calorie, paleo, and low carb (no rice).
And if you're counting calories, carbs, or cholesterol, you will be glad to see that both Waba Grill and Flame Broiler offer extensive information about their menu's nutrition, available on their websites.
So, How are Waba Grill and Flame Broiler Different?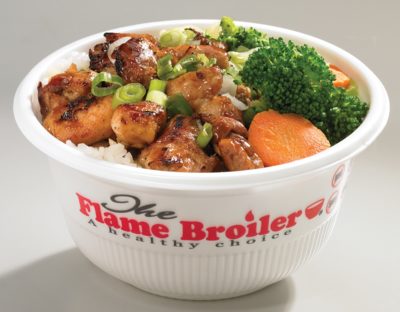 To an outsider, there really is no difference. But, to someone who routinely visits one or the other, there might be something to say about which rice bowl joint does it better.
For one, the money maker – the bowl – is concievably different from Waba Grill to Flame Broiler. At Waba Grill, the bowl is wider and appears to be loaded with more chicken and rice than its competitor.
But wait, you didn't think Waba's rival would sit back and do nothing – did you? Flame Broiler has recently changed their bowls that were once greater in depth (probably because the restaurant realized the deeper bowls make their food appear less full.)
Two, Flame Broiler serves the chicken plain, allowing their customers to control the amount of teriyaki sauce – another appealing offering to those focused on nutrition. Waba Grill, on the other hand, already applies a dollop of teriyaki sauce, making it saucier and tastier. Of course, customers will have the liberty to choose which one they favor best as both allow the option to add more teriyaki sauce at will.
Another difference? The rice. Waba Grill serves their rice sort of dry and soft. As for Flame Broiler, the rice is stickier (sometimes on the watery side), reminiscent of common Japanese rice served in most bento places.
And last – if you are into spicy food, Waba Grill's hot sauce can make your bowl have a smoky, Tapatio taste that can add a unique flavor far from what's offered at Flame Broiler, whose hot sauce is tangy and vinegary.
The Price of Healthy Fast Food
Let's be real for a minute. We know we have some rice bowl lovers who would pick the winner of the Battle of the Bowls for one reason only – price. And it's a valid determinant, so who's more expensive? Of course, it depends what you order off the menu, but overall, Flame Broiler tends to be a bit more expensive, serving a Chicken bowl for $8.50, while the same meal at Waba Grill is $7.50.
Where are They?
If location is a factor in Battle of the Bowls, Flame Broiler would likely win that category, due to the fact that there seems to be a chain in California alone. Orange currently has four chains, Santa Ana has three, and in the OC, you will literally lose count as Flame Broiler outnumbers the number of McDonald's restaurants.
Paleo Diet Samples
Generally, the biggest followers of Flame Broiler and Waba Grill are either on a low carb diet or Paleo Diet. As these appear to be the targeted customers of both restaurants, there are many options to fulfill this feat.
Flame Broiler is the best lunch place for a Paleo Dieter. The customer can choose from any available plates off the menu, either with the no rice or no sauce option. The chicken and beef combination plate with vegetables, no rice, with the Magic Hot Sauce, and a serving of orange slices can be the best meal they can eat from this food chain.
Waba Grill caters to the Paleo Dieter, as well, offering the rice bowl with several protein choices like shrimp, beef, and salmon. A typical Paleo pick can be the chicken teriyaki bowl with no sauce, veggies, and an additional serving of grilled shrimp with avocado.
Not exactly a mouthful of flavor, but it'll do. But, we want to know which team you're on – Waba Grill or Flame Broiler? Let us know why in the comments below.